The Village Voice Has Folded And People Are Sharing Their Best Memories Of The Paper
The Village Voice, the iconic New York newspaper that became online-only last year, has shut down.
"Today is kind of a sucky day," said owner Pete Barbey in a phone call, according to audio obtained by Gothamist.
"Due to, basically, business realities, we're going to stop publishing Village Voice new material. About half the staff, it'll be last day today. About half the staff staying on to wind things down and to work on the archive project," Barbey reportedly said, referring to efforts to archive the Voice's content.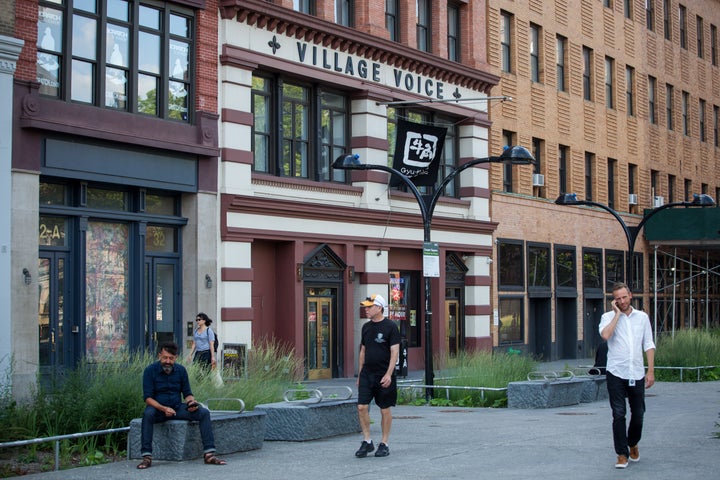 Bloomberg via Getty Images The former headquarters of The Village Voice in the East Village neighborhood of New York City, seen on Aug. 22, 2017.
Barbey bought the famous citycentric weekly, co-founded by Dan Wolf, Ed Fancher and Norman Mailer in 1955, from Voice Media Group in 2015 after it spent years going through assorted owners, mergers and separations. Barbey also noted on the call that he bought the publication to save it.
"This isn't exactly how I though it was going to end up. I'm still trying to save The Village Voice," he said, before telling his staff that they had "amazing grit" and remained "professional" through it all.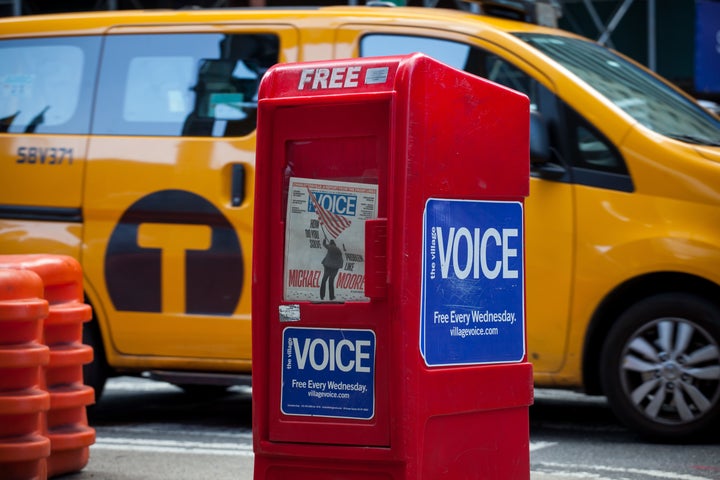 Bloomberg via Getty Images Distribution boxes like this one, pictured in 2017, used to dot New York City.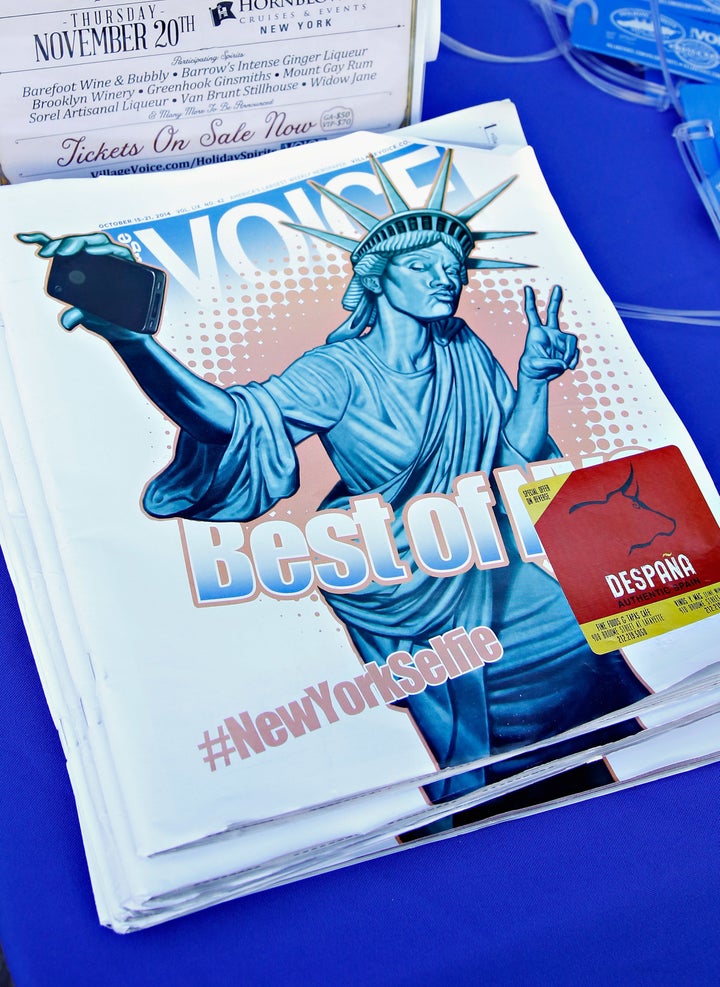 Cindy Ord via Getty Images
Just one year ago, the alt-weekly ceased print operations and moved solely to digital. That news rattled the newsroom, with film editor Alan Scherstuhl telling Esquire at the time, "I think everybody was stunned."
"You know how you always expect this will be the last month things keep going? Everybody is kind of surprised, but also like, 'I can't believe we got away with it this long,'" he said.
A statement from Barbey confirmed that the paper was indeed shuttering and recalled its illustrious history that "defined a new genre of publishing" and how it was "subject to the increasingly harsh economic realities facing those creating journalism and written media."
"The Village Voice was created to give speed to a cultural and social revolution, and its legacy and the voices that created that legacy are still relevant today. Perhaps more than ever," the statement said.
Barbey continued:
Its archives are an indispensable chronicle of history and social progress. Although the Voice will not continue publishing, we are dedicated to ensuring that its legacy will endure to inspire more generations of readers and writers to give even more speed to those same goals.
News of the Voice's last remnants folding has sent shockwaves through Twitter. One editor of the publication shared a succinct message, calling the Voice's work "a good run."
And pour one out for the Village Voice. It was a good run.
— Neil deMause (@neildemause) August 31, 2018
The publication's closure particularly struck a chord with journalists who got their start in that newsroom and those who contributed to the publication in its six-decade life:
I was happy to keep writing for the site, including my recent Aretha Franklin obit, but the owner has announced there will be no new content. I hope it gets sold and stay alive. https://t.co/6wqT0mDFUg
— michael musto (@mikeymusto) August 31, 2018
This is so sad for NYC. The paper where I got my start (and obviously where a lot of much, much more impressive people did too) https://t.co/N7I3KwablF
— Emma Span (@emmaspan) August 31, 2018
This crap future where we have Facebook and fascism but no village voice.
— ❤️ (@umairh) August 31, 2018
the village voice meant so much to so many people. and writing 20 columns there changed my life. @DavidSwansonNYC is one of the best editors in the entire world: thoughtful, talented, smart, empathetic. everyone at VV was kind to me when no one else was. this is crushing.
— anemone of the people (@chick_in_kiev) August 31, 2018
Unfortunately for us all, well-intentioned but staggeringly ignorant and egotistical rich idiots are not journalism's salvation. RIP for now VVhttps://t.co/vHbZZTe0Ss
— Hamilton Nolan (@hamiltonnolan) August 31, 2018
Never forget this Village Voice piece, one of my all-time favorite pieces of sports writing, The Power and the Gory https://t.co/1ZQXNRWTxC
— Erik Hinton (@erikhinton) August 31, 2018
Long live the Village Voice: the newspaper that gave New York its cool, birthed generations of some of the best writers this city has ever known, and taught me everything I know about being a journalist here. You will be dearly missed. https://t.co/yi9FGbkQZ7
— John Surico (@JohnSurico) August 31, 2018
Terrible news. What a loss for NYC. Will always appreciate what I learned freelancing there; thanks @chelipj and @laurashunk https://t.co/sCl5LTUihm
— Alanna Schubach (@AlannaSchu) August 31, 2018
It's hard to even imagine New York without the Village Voice
— Sam Adams (@SamuelAAdams) August 31, 2018
I was afraid this would happen. I read The Village Voice religiously. For my money, they always had the best film criticism in the city. I learned more about film in their pages than I did in college. https://t.co/lscXtAvQ3W
— Luke Epplin (@LukeEpplin) August 31, 2018
I remember walking past the Village Voice offices shortly after I moved to NYC, thinking, "I will work there." Two years later, I started as an editorial assistant on the arts desk. A year after that, I published my first cover story.
The Village Voice was a place for dreamers.
— Eric Sundermann (@ericsundy) August 31, 2018
A salute to everyone who kept the Village Voice going strong online after the print edition ceased. This is a really painful loss. https://t.co/CWFS79dL5r
— Alyssa Katz (@alykatzz) August 31, 2018
RIP, The Village Voice.
This is a developing story. Please check back for updates.
Read More