Farhad Moshiri takes Everton shareholding to 68.6 per cent
Iranian's stake in Premier League club could eventually rise to 77.2 per cent.
Posted: September 11 2018By: Stephan Georgiou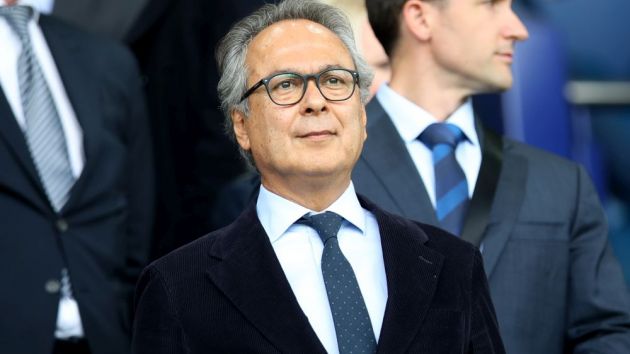 Getty Images
Iranian businessman Farhad Moshiri has increased his stake in English top-flight soccer club Everton to become their majority shareholder.
Moshiri has increased his 49.9 per cent stake in Premier League outfit to 68.6 per cent as the investor continues to buy up shares from club chairman Bill Kenwright, director Jon Woods and long-term shareholder Arthur Abercromby. Moshiri's overall stake expected to rise further to 77.2 per cent by July 2019.
According to a club statement, Moshiri has acquired an 18.7 per cent share through Blue Heaven Holdings Ltd, with additional shares – including those from Kenwright – expected to be purchased by next summer as Everton look to secure funding for the construction of their proposed new stadium.
No price has been quoted for the price Moshiri paid to the three shareholders or in what proportions they have sold their shares this time. According to the Guardian, Moshiri paid UK£87.5 million for his original 49.9 per cent stake in 2016, valuing the club at UK£175 million. At that time, Kenwright sold around half his 26 per cent stake, being paid approximately UK£22.75 million, and he retained 13 per cent until this latest sale.
Everton are preparing to move away from Goodison Park to Bramley Moore Dock, with the club aiming to do so before the 2022/23 season.
It is hoped that Moshiri's latest commitment to the club will suit potential investors for the new stadium, for which Everton are hoping to have planning granted for by next summer.
Everton's most recent accounts, for the year to 31st May 2017, noted a UK£104 million post-takeover loan from Moshiri to Everton that went towards repaying its debts and for investment. Since then, with Moshiri's financial backing, Everton have spent more heavily on players than they were previously able to, paying a net UK£68.6 million this summer.
Moshiri first invested in Everton after selling his stake in fellow Premier League club Arsenal to his long-term business partner Alisher Usmanov. The Uzbek recently sold his share in the North London club to American owner Stan Kroenke.
Reports suggested that Usmanov may have been preparing a bid to invest in Everton alongside Moshiri though this never materialised, with both men denying such plans. Usmanov's USM holdings agreed a five-year deal to sponsor Everton's training ground in January 2017.
Everton have had little success of note since Moshiri's takeover, with the 1995 FA Cup still remaining their last major trophy win.
Read More