Manny Pacquiao's Top Rank rights row 'resolved'
Bob Arum claims Matthysse fight payments issue was down to contract error.
Posted: September 12 2018By: Nick Friend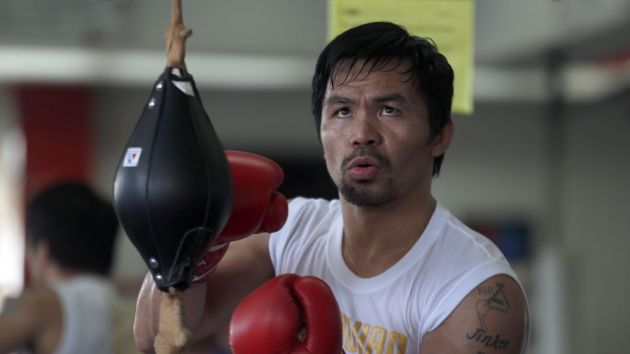 Getty Images
A row over unpaid broadcast rights between Manny Pacquiao and boxing promotion company Top Rank is to be resolved, a day after the Filipino boxing legend threatened to sue the Bob Arum-owned promoters.
The issue stemmed from non-payments to Pacquiao following his seventh-round knockout victory over Lucas Matthysse in July.
Top Rank, which had a long-term partnership with the eight-weight world champion, was not actively involved in the promotion of the fight, but was still in charge of its distribution in the United States. The bout was live-streamed on ESPN+ as part of Top Rank's seven-year deal – signed in August – with ESPN and ESPN+, its over-the-top (OTT) subscription streaming service.
On Monday, Pacquiao used his official Instagram account to announce his intention to bring legal action against Top Rank for their failure to pay him for the US rights to the fight.
He wrote: 'Congratulations and good luck to Top Rank Boxing and ESPN on your 7-year partnership agreement. I know both of you have been very busy finalising the deal.
'However, I have not received the US rights payment for my July 15 fight against Lucas Matthysse that was broadcast on ESPN plus. Therefore, I am initiating legal proceedings against Top Rank and all other parties based on the non-payment and attempt to restrict my future rights. Thank you.'
According to Arum, who spoke to ESPN, the disagreement was being sorted out, with Pacquiao said to have not signed or returned the original contract for the fight.
He said: "We read the Instagram post and [Top Rank attorney] Harrison [Whitman] handled it with Pacquiao's attorney, and it looks like everything will be resolved."
Meanwhile, Top Rank and Queensbury Promotions have announced an exclusive deal that will see ESPN+ become the home of promoter Frank Warren's fighting cards held in the United Kingdom.
The agreement is linked to ESPN's August deal with Top Rank, which announced that 54 live events would be shown annually. A key aspect of that deal was Top Rank's commitment to securing rights to 24 cards from beyond the US.
Warren said of the deal: "I am absolutely delighted and honoured to announce this landmark multi-year deal with Top Rank that will see my promotions going forward featured regularly on the ESPN platforms in the US and Canada.
"This was a very attractive opportunity to us due to the level of exposure our stable of fighters will benefit from by being showcased by one of, if not the biggest, broadcaster in sport."
Read More