Seoul eyes united Korean 2032 Olympics
South Korean sports minister also proposes co-hosting a pan-Asian World Cup.
Posted: September 12 2018By: Stephan Georgiou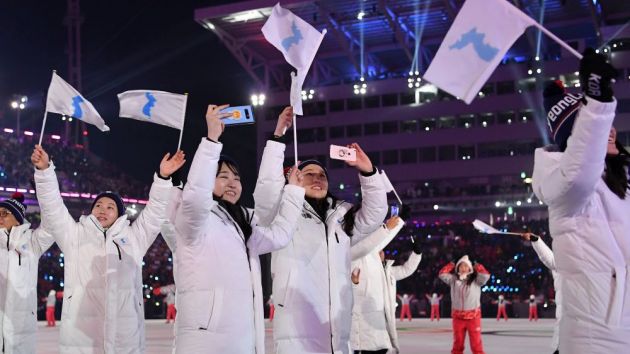 Getty Images
South Korea is considering a joint bid with neighbours North Korea to host the Summer Olympics in 2032.
Sports minister Do Jong-Hwan, speaking at a meeting with his Japanese and Chinese counterparts, said South Korea is 'considering proposals to co-host events in Seoul and Pyongyang'. The two nations are due to meet for talks later this month with formal discussions regarding future joint endeavours potentially on the agenda, as they strive to achieve regional peace.
A Summer Olympics bid with the North would be a further sign of the calming tensions between the two nations, with Jong-Hwan even open to discussing entering talks on a unified Korea team for Tokyo 2020 with the International Olympic Committee (IOC).
"We will ask for support from the Olympic organisers about expanding unified Korean teams and having a joint parade at Tokyo 2020," he said.
"In order to form joint teams, we need to work together from the qualifying stages. We'll speak with sports associations and athletes. I'll also talk with the North Korean sports minister about this."
Minister Jong-Hwan also insisted that South Korea were mulling a pan-Asian bid to host soccer's Fifa World Cup in 2030 with North Korea, China and Japan – although he claimed that China have hopes of hosting the tournament outright.
Adding: "We heard that China is going to make a bid to host the World Cup, but we want to make a proposal of co-hosting the event with Asian neighbours like North Korea, China and Japan. In this way, we can maintain the current atmosphere of peace and can connect Northeast Asia peace with peace on the Korean Peninsula."
South Korea has experience of co-hosting major events, having previously shared the World Cup event with Japan in 2002. A successful Summer Olympics bid would be its first since 1988.
South Korea recently hosted the 2018 Winter Olympics in PyeongChang – the first of three consecutive Olympic events being held in Asia, with Beijing 2022 following the Tokyo Summer Games in two years' time.
Last year, the IOC simultaneously announced that Paris and Los Angeles will host the 2024 and 2028 Summer Games respectively.
Read More